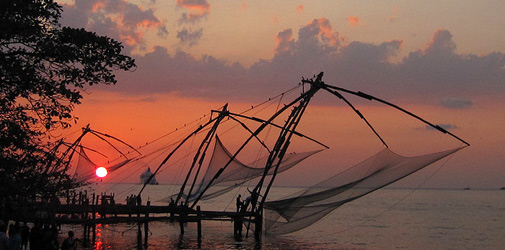 Tour Duration:
24 Nights / 25 Days
Destinations Covered:
Cochin - Calicut - Cannanore Coast - Wayanad - Cheruthuruthy - Palakkad - Alleppey - Kanjirapally - Periyar - Dindigul - Kanadukathan - Tanjore - Pondicherry - Mahabalipuram - Chennai
Day 01: Arrival at Cochin
You'll be welcomed by our representative at Kochi International Airport, who'll help you with the boarding formalities. Thereafter, he'll transport you to the home-stay at Mundackal, where you'll be spending the night.
Day 02: Cochin - Calicut - Cannanore Coast
After an early morning breakfast, visit the Kodanad Elephant Training Camp, the only orphanage for elephants in the world. In this orphanage, see the elephants being trained by the mahouts to obey orders and help in agriculture or at temples. Later, you'll be driven to the airport to catch a flight to Calicut. Upon arrival, you'll be transferred to Cannanore Coast, at about one hour's drive. As you reach, make a check in to the hotel at a semi-private beach. Relax and unwind in the comfort and luxury of the beautiful coastline. Night stay will be at the hotel.
Days 03 - 04: Cannanore Coast
The next two days will be completely at your disposal. Lay back and relax on the beach or visit the fishing villages situated close-by. Put on your sunscreen and tanning creams and relax at the beach side sipping a Pina-Colada. Cannanore Coast is one of the most beautiful coastlines which have a number of famous beaches. If luck is on your side, you might witness the mystic Theyyam Dance, which is indigenous to this part of Kerala.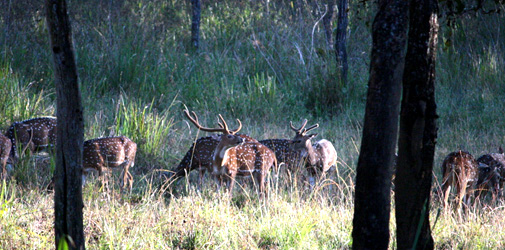 Day 05: Cannanore Coast - Wayanad
Have your breakfast early in the morning and drive towards the Western Ghats, leaving behind the beaches. The landscapes and natural beauty, though rugged and varied, have got their own charm and allure. While driving through the Western Ghats, you'll reach the beautiful and enchanting hill station of Wayanad. Being quite inaccessible, Wayanad has its virgin beauty intact till date. The lush greens are scattered all around the area. Your abode for the night will be amidst these greens.
Day 06: Wayanad
Spend the day at Wayanad as you please. You can relax back or make your stay adventurous. The options of both an early morning trekking regimen and a lazed morning are available. As a wildlife admirer, wild life sanctuaries are located at close proximity. However you desire to splurge your day, do not miss the famous Edakkal Caves, famous for the prehistoric rock carvings which are believed to be more than 6000 years old. You'll stay at the hotel for the night.
Day 07: Wayanad - Cheruthuruthy
Indulge in a delightful morning meal, after which you'll traverse downhill to a small town called Cherutheruthy. This small yet striking hamlet lies on the banks of a large river. Upon arrival, check into the hotel on the banks of the river and spend the rest of the day exploring the place on foot. Night will be spent at the hotel.
Day 08: Cheruthuruthy - Palakkad
After enjoying a sumptuous South Indian breakfast, you'll be visiting Kerala Kalamandalam, a centre for Keralite performed arts like music and dancing. Observe the students perfecting the exotic forms of dances, who undergo rigorous training to learn them. Thereafter, drive towards Tharavad, a small township near Palakkad. A homestay here will serve as your haven for the night.
Day 09: Palakkad
This day is reserved for spending time with the family you'll be staying with. To enjoy a complete south Indian family experience, put off your inhibitions and simply get along with them, learning a number of things like cooking, culture and hospitality. If you aren't comfortable with this, you can always go fishing, bird-watching, or take up cooking demonstration classes which are the main activities offered here. What's more, enjoying a bullock cart ride or trekking up the hills nearby is always open to you. Overnight stay will be at the homestay at Tharavad.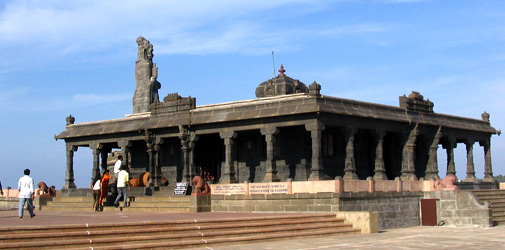 Day 10: Palakkad - Cochin
Post a wholesome breakfast, you'll embark a three-hour journey to Cochin, your next destination on the cards. When you reach Cochin, you'll be taken to Greenix Cultural Village which is a haven for cultural dancing. Attend a traditional Kathakali dance performance, an oriented dance drama. To spend the night, you'll be accommodated at one of the heritage hotels at Fort Cochin.
Day 11: Cochin
Breakfast will be served at the hotel. Cochin has a great enthralling history which is long and complex. You'll be taken on a guided tour of the city. Being a port city, Kochi boasts of a diverse culture which has given birth to an indigenous blend of cultures. You'll come across a number of monuments which have elements of the colonizing powers who ruled India, which include Arab, Chinese, Jewish, British, Dutch and Portuguese. Fort Cochin and Mattancherry are the two most famous monuments in Cochin. At sunset, you'll be taken on a harbor curise, after which you'll be driven back to the hotel for overnight stay.
Day 12: Cochin - Alleppey
The backwaters of Kerala are perhaps the most talked about destination when anyone speaks of Kerala - God's Own Country. Drive to Alleppey and board a houseboat. The crew at the boat will be at your disposal to pamper you with care and kindness. The food and refreshments will be served for lunch amidst the lush greenery and picturesque beauty of the place. Your night stay will be in the houseboat.
Day 13: Alleppey - Backwaters
Refreshing, incredible, and unforgettable is the experience on the backwaters. However, avoid getting nostalgic as the pristine waters have just begun. Your next stop will be a backwater home-stay which will complete your backwaters experience, as the only means of reaching this place is through a boat. Explore the backwaters from here on in a more individual fashion - on foot, on a bicycle or on a country boat. Return to the home-stay in the evening to spend the night.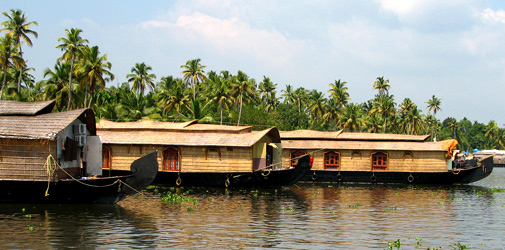 Days 14: Backwaters - Kanjirapally
An early rise will let you feel and experience the joy of living amongst nature. The traditional delicacies served for breakfast will trigger a good start. De-board on the banks and begin your journey to the foothills of the Western Ghats. Kanjirapally is a small town in Kovalam, popular for producing rubber, apart from cardamom, vanilla and other valuable exotic crops in small amounts. A lavish bungalow overlooking the farming estates will be your haven for the night.
Day 15: Kanjirapally - Periyar
You will be provided with a filling traditional meal at the homestay, after which you'll be driven to Periyar, which harbors one of India's largest wildlife sanctuaries. As you reach at the resort, you'll be served lunch. Thereafter, you'll be taken on a walk through the sanctuary. Strolling is the best way to explore the thick and deciduous forests and admire the exotic flora and fauna present here. Some common animals found include Malabar giant squirrels, hornbills, Nilgiri black-faced langur monkeys and the occasional elephant. Dinner and overnight stay will be at the resort.
Day 16: Periyar - Dindigul
Post breakfast, you'll travel downhill towards the secluded township of Dindigul, en-route Madurai. Your abode will be Cardamom House, idyllically situated in an isolated valley in the hills west of Dindigul, which is exotic and undisturbed. The views of the abundant Avifauna here is wonderful. More so, it is a heaven for birdwatchers. The nearby lake is packed with birds or if you wish, you can visit the nearby villages to mingle with the natives. Enjoy a delectable dinner and call it a day at Cardamom House.
Days 17 - 18: Cardamom House
You'll be staying at Cardamom House for the next two days to unwind and rejuvenate in the greens of this blissful destination. You have all the time in your hands to discover this place and get acquainted with the people.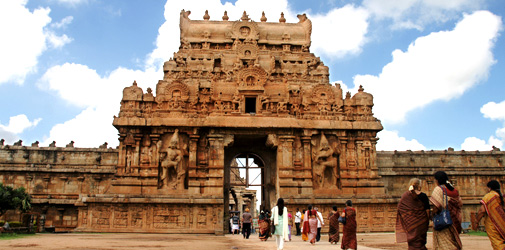 Day 19: Dindigul - Kanadukathan
Start the day with an early drive to Kanadukathan, a small village in Chettinad region. The people residing in this part of Chettinad are known as Chettiars, a banking and merchant sub-caste. The colossal homes are well furnished and decorated. An impressive sight to marvel at! Their architecture uses a blend of myriad styles - Burmese teak, British steel, and Italian marble. You'll surely get a chance to explore some of these buildings. What's more, you'll be residing in one of these to spend the night.
Day 20: Kanadukathan
The best way to discover this place is at its own pace and you surely need time for that. You'll be visiting the unique hand painted tile factory on the outskirts of Kanadukathan. Also, pay a visit to some temples made by the people and the Chettinad Palace, which is humungous and surpasses any and all kinds of descriptions. Proceed with a bullock cart ride and learn about your fortune told by a parrot. Overnight stay will be at Kanadukathan.
Day 21: Kanadukathan - Tanjore
Take your morning meal, after which you'll leave for the magnificent temple town of Tanjore, a haven for a number of heritage sites listed on the UNESCO list. Tanjore is famous for the intricate bronze sculpting method known as lost wax method. Upon arrival, you'll be taken on a guided tour of Tanjore Palace in the afternoon. In the evening, a tour will be made to the thousand year old Brihadishwara Temple. The shrine looks beautiful in the effervescent light of the setting sun. Night stay will be arranged at a hotel in Tanjore.
Day 22: Tanjore - Pondicherry
Day 22 of the tour will see you visiting a couple heritage sites, including Airavateshwara and Gangaikondacholapuram. These architectural marvels are colossal and were erected at the times when there used to be no machines. After this, your journey will continue to Pondicherry, with a short halt at Chidambaram. Pondicherry once served as a major part of the French colony and was a stronghold for many decades. It retains its grandeur till date and is quite visible from the architecture and the way buildings are preserved here. A French colonial quarter turned hotel will be your home for the night.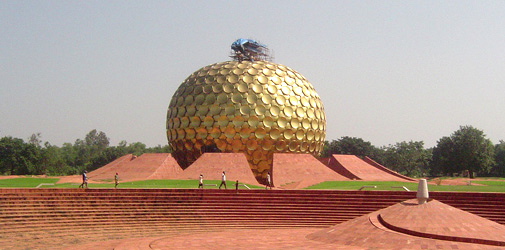 Day 23: Pondicherry
Pondichery is a mishmash of colonial history, culture and heritage. Moreover, it is home to some of the best coffees in India. This union territory has become a tourist hub, offering plenty of tourist attractions to see and souvenirs to pick up. The modern inhabitants have readily adopted the French and Spanish habit of an afternoon siesta from the colonizers which once ruled this place. Return back to the hotel to spend the night.
Day 24: Pondicherry - Mahabalipuram
After treating your taste buds with a nutritious morning meal, you'll travel to Mahabaliuram, a serene fishing town. The beautiful seashores, pristine beaches and a number of efficient stone carvers are the highlights of this seaside township. You'll be touring some of the famous Pallava monuments in the afternoon, which exude its history. The day will end with a check in at the hotel, followed and dinner and night's rest.
Day 25: Mahabalipuram - Chennai Departure
Multi-cuisine delicacies will be offered for breakfast at the hotel. Soothe your taste buds with them, after which you'll be driven to Chennai International Airport to board a flight for your onward journey.