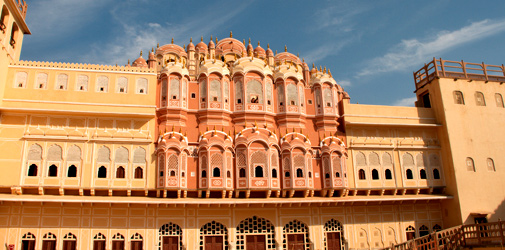 Tour Duration:
15 Nights / 16 days
Destinations Covered:
Delhi - Sawai Madhopur - Ranthambore - Deogarh - Siana - Little Rann of Kutch - Gondal - Sasangir - Palitana - Bhavnagar - Mumbai
Day 01: Arrival at Delhi
Upon your arrival at Delhi airport, you'll be met by our tour executive who'll give you a briefing about the tour, after which you will be transferred to the hotel. Dinner and overnight stay will be at the hotel.
Day 02: Delhi - Sawai Madhopur - Ranthambore
After an early morning breakfast, you'll be driven to the railway station to board the train to the next destination - Sawai Madhopur, in the state of Rajasthan. Sawai Madhopur, known for harboring one of India's most popular wildlife sanctuaries - Ranthambore National Park, will act as your base for visits to the park. After arriving at the station, you'll straight away be driven to the resort/lodge. Enjoy the dinner and spend the night here.
Day 03: Sawai Madhopur - Ranthambore - Sawai Madhopur
Spend the entire day on morning and evening game rides to different areas inside the sanctuary. Though not guaranteed, the rides will provide ample opportunities to see the Bengal tigers in their natural habitat. Apart from the tiger, the sanctuary is also a home to other animals like leopard, nilgai, dhole, wild boar, sambar, hyena, sloth bear, chital, and hundreds of species of birds. Take your camera along to capture the wildlife in memorable frames! Return back to Sawai Madhopur for dinner and night stay.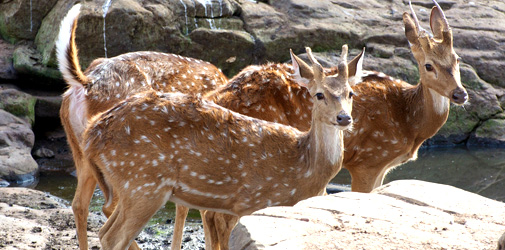 Days 04 - 05: Sawai Madhopur - Deogarh
This morning, you'll proceed to Deogarh, best known for its possession of luxurious heritage palaces transformed into resorts. Upon your arrival, you'll be escorted to one of such palaces that'll serve as your abode for two nights. Spend the days enjoying traditional Rajasthani delicacies and going on excursions to the countryside in one of the vintage trucks owned by the royal family. The city has many a lakes as its assets that attract a large number of tourists throughout the year. A visit to some of these lakes will be arranged to observe hundreds of birds that come here to quench their thirst.
Days 06 - 07: Deogarh - Siana
On day six of the tour, you'll travel to south west Rajasthan to Siana, a village in the Jalore district. The terrain here, bordering with the great Thar Desert, is a unique mix of hills, ravines, and sand dunes. Upon arrival, you'll be transferred to Siana camps or Siana gardens for two nights' stay. Since the area is virtually untouched by tourism, it will provide a good insight on the traditional way of life. During your stay, you'll be making excursions to Bhil villages to interact with the local people, the Rabari pastoral settlements, and taking evening drives to look for leopards that dwell in the vicinity in the forested area.
Days 08 - 09: Siana - Little Rann of Kutch
After breakfast in the morning, you'll journey from Siana to Little Rann of Kutch, Gujarat. Located in Kutch district, this picturesque haven is a salt marsh, similar to the great Rann of Kutch, although smaller of course. On arrival, transfer to one of the rustic camps for two nights' stay, during which you'll be taken on jeep rides to view the indigenous Indian Wild Ass (being world's last refuge of the species). It's your luck if you come across animals like the endangered Indian wolf, desert cats, hyenas, and birds of prey, as the place is home to them as well.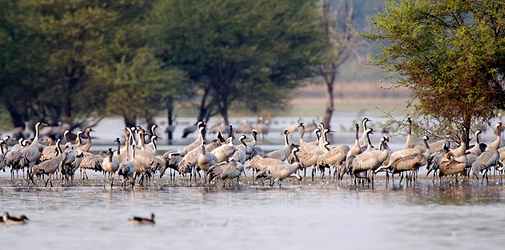 Day 10: Little Rann of Kutch - Gondal
Day 10 will start with a gorgeous breakfast, after which you'll travel to the former princely state of Kathiawar Agency during Bombay Presidency - Gondal. When you reach, make a check in to one of the heritage hotels. Shortly after freshening up, head out to explore this picturesque town with splendid architecture, wide roads lined with trees, and European lampposts. Later in the evening, return back to the hotel for dinner and sleep over.
Days 11 - 12: Gondal - Sasangir
On day 11, journey from Gondal to Sasangir (about 3½ hours drive), known popularly as Gir Forest National Park and Wildlife Sanctuary. Being the sole home to the last remaining Pure Asiatic Lions, it is considered to be the most important protected areas in the entire Asia. Upon arrival, check in to the lodge for two nights. During your stay, you'll be taken on morning and evening jeep safaris to different areas of the sanctuary to see the lions. Apart from lions, the park is an abode to several different species of animals, birds, and reptiles. The anticipation of sighting a lion any moment will be worth the trip. Don't forget to bring your camera along!
Days 13 - 14: Sasangir - Palitana
Post breakfast, you'll be driven to Palitana, a major pilgrim centre for the Jain community. On arriving, you'll be dropped off at a heritage home-stay or hotel (as per your choice) for two nights. During your stay, you'll visit the praiseworthy collection of more than 3,000 Jain temples, 863 of which date back to the 11th century. Spend the day on the Shatrunjaya Hills, where these temples are located, and get accustomed with the culture and history that surrounds them.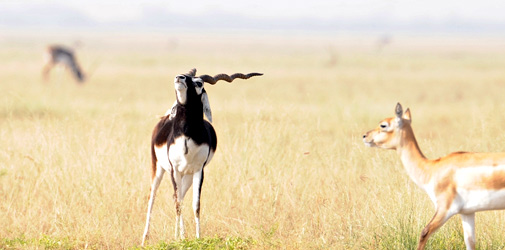 Day 15: Palitana - Bhavnagar - Mumbai
On day 15 of your tour, you'll be escorted in time to Bhavnagar Airport to board a flight to Mumbai. On arrival, our tour representative will greet you and transfer you to the hotel close to the airport. Rest of the day will be at your leisure. Dinner and night stay will be at the airport.
Day 16: Mumbai Departure
You tour will officially come to an end as you'll be transferred to Chhatrapati Shivaji International Airport to board a flight to your onward destination. The sweet and lovable memories etched in your heart are sure to bring you back to India once again!