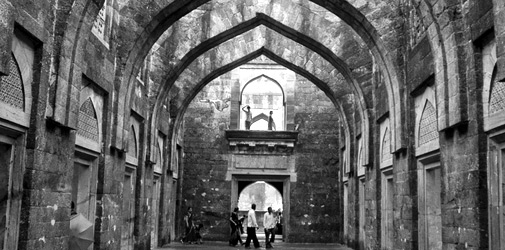 Tour Duration:
13 Nights / 14 Days
Destinations Covered:
Indore - Mandu - Maheshwar - Bhopal - Bhimbetka - Bhojpur - Udaigiri - Sanchi - Gyaraspur - Udaypur - Sagar - Eran - Chanderi - Deogarh - Khajuraho - Orchha - Datia - Gwalior - Padavali - Bateshwar
Day 01: Arrival at Indore - Mandu
You'll be welcomed by our tour executive upon your arrival at Indore. Later, he'll escort you to Mandu, your final destination. You'll be accommodated at a hotel in Mandu. After relaxing for a while, you'll be taken on a city tour. A visit to a number of majestic wonders will be on the cards. Enlisted on the map are sites like Jama Masjid, Hoshang Shah's Tomb, Jahaz Mahal - a colossal structure constructed in the shape of a ship, Hindola Mahal, Champa Baoli - a large step-well which served as the summer runaway for the emperor, and Rupmati's Pavilion. Overnight stay will be at the hotel.
Day 02: Mandu - Maheshwar
Have a sumptuous breakfast at the hotel, after which you'll be driven to the beautiful town of Maheshwar. On your arrival, make a check in at the hotel. After a quick refreshing session, set out to tour the city's prized possessions. The first stop will be the Temples of Maheshwar which, like any other Hindu temple, are efficiently carved and crafted but their entrances are absolutely amazing. You'll also be taken to Navdatoli which is an archaeological site on the outskirts of Maheshwar. Night stay will be at the hotel.
Day 03: Maheshwar - Bhopal
After having a delectable traditional Indian breakfast at the hotel, you'll be driven to Bhopal, to visit its historic wonders. Often referred to as the City of lakes, Bhopal is the second largest city of Madhya Pradesh. The places worth visiting here are Laxmi Narayan Temple - dedicated to Lord Vishnu and goddess Laxmi, Taj-ul Masjid - a large and beautifully crafted mosque of India, the beautiful Shaukat Mahal which offers glimpses of Gothic and post-Renaissance architecture, Sadar Manzil, Moti Masjid, and Upper and Lower Lakes. At either of the lakes, you can go boating or take a safari at the nearby forest. Visiting the nearby aquarium is also a great bet. Overnight will be at the hotel in Bhopal.
Day 04: Bhopal - Bhojpur - Bhimbetka - Bhopal
Post breakfast, you'll journey to Bhojpur, named after the Legendary King Bhoj. Situated not really far off from Bhopal, Bhojpur houses the remains of once magnificent temple of Lord Shiva, Bhojeshwar Temple, and Cyclopean Dam. The temple is preserved in such a way that despite the fact it being incomplete, it still serves as an exquisite example of temple architecture. From Bhojpur, you'll move on to Bhimbetka, enclosed by the foot of Vindhyan mountain ranges and covered with thick greens as well as rocky terrains. This place is notorious for its paintings which are created on the walls of the caves. Return to the hotel in Bhopal in the evening to spend the night.
Day 05: Bhopal - Udaigiri - Sanchi
The next destination inline is Sanchi. En-route, a stopover will be made at Udaigiri, 13 km from Sanchi. Located near Vidisha, Udaigiri is famous for the rock cut caves formed by making different intersections in one mount. The caves date back to 4th and 5th centuries. Thereafter, you'll continue your journey to Sanchi. After you reach, you'll be visiting the Stupas, temples, monasteries, and pillars, built in early centuries. The famous Sanchi Stupa was constructed by Emperor Ashoka. This place is a hub of Buddhist traffic, witnessing Buddhists in large numbers from all over the world. Check in to the hotel for overnight stay.
Day 06: Sanchi - Gyaraspur - Udaypur - Sagar
From Sanchi, you'll travel to the next destination - Gyaraspur. The two places of significance here are Athkhamba (Eight Pillars) and Chaukhambe (Four Pillars), ruins of the two mega temples which were once used for worshiping. Thereafter you'll be driven to Udaypur, a serene place important not only for its historic and cultural heritage but also for its picturesque beauty. The place is known for its magnanimous Neelkanteshwar Temple which narrates the story of the Paramra art and culture. Other sites of tourist interest here are Bijamandal, Sahi Masjid and Mahal, Sher Khan-ki-Masjid, and Pisnari-ke-Mandir. From here, head to Sagar for an overnight stay.
Day 07: Sagar - Eran - Chanderi
After a lip smacking breakfast at the hotel, you'll be driven to Eran. This place is worth visiting as it is perhaps the only place where a monument of Sati was first reported. The small hamlet is a haven for several relics and artifacts. Excavations are still in process here and it is slated as the northernmost limit of the Chalcolithic culture in Madhya Pradesh by the Department of Archeology of the University of Sagar. From here, proceed to Chanderi, a beautiful city with its history dating back to the 11th century. You will be accommodated at a hotel in Chanderi for overnight stay.
Day 08: Chanderi - Deogarh - Chanderi
Start the day with a drive away to Deogarh, a small village near the town of Lalitpur. The place is celebrated for its collection of a number of monuments. Tourist attractions include the placid banks of Betwa River and the Hill Fort. A number of ancient monuments of the religious interest of Hindus and Jains are other interesting sites to see. You'll be driven back to Chanderi hotel to spend the night.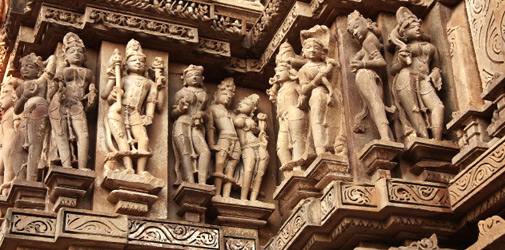 Day 09: Chanderi - Khajuraho
Enjoy the delicious traditional delicacies offered for breakfast at the hotel. Thereafter, travel to the famous temples of Khajuraho. Among all other ancient temples in India, Khajuraho has its own image and charm. It remains unique because of its generic history and genius architectural structure. However, most of these caves are in ruins, with only 22 left out of the original 85. The creativity of the architect and arty craftsmanship is highly commendable. For the night, you'll be accommodated at a hotel in Khajuraho.
Day 10: Khajuraho
Post breakfast, you'll be taken on a day's tour of Khajuraho. Khajuraho provides a different and unique style of architecture, distinct from the prototype of that era. Each temple is structured on a high masonry platform. Divided into three geographical groups - Western, Eastern and Southern, the shrines are a perfect example of the rich culture and heritage once inherited by the Rajput kings of Central India. Travel back to the hotel for a night's rest.
Day 11: Khajuraho - Orchha
Orchha will be your destination on day 11 of the tour. Once the capital of the Bundela Rajput chieftain, Rudra Pratap, Orchha stores architectural ruins of the empire. These include Jehangir Mahal, Laxminarayan Temple, and Raj Mahal. You will be accommodated at a hotel in Orchha for night stay.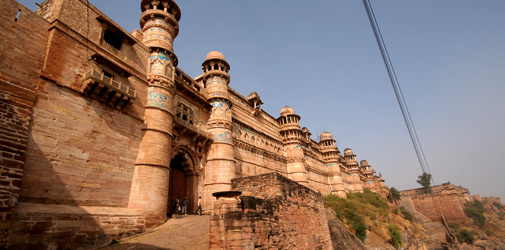 Day 12: Orchha - Datia - Gwalior
From Orchha, you'll journey to the pre-historic town of Datia. Just 69 km off Gwalior, Datia retells a history dating back to Mahabharata. The seven-storeyed city palace built by Raja Bir Singh Deo is an exquisite piece of marvel, displaying Bundela architecture. You can witness a number of paintings of the Bundela School of Art. The compelling and beautiful Gopeshwar Temple is also located in the city. Your haven for the night will be arranged in Gwalior.
Day 13: Gwalior - Padavali - Bateshwar - Gwalior
Indulge in a flavorsome breakfast at the hotel. Henceforth, you'll be driven to Padavali, which is famous for the magnificent temple built on the fortress of Padavali. This is probably the only temple in India which forms an abode for ten incarnations of Lord Vishnu, along with a number of other deities. Later, you'll be journeyed to the beautiful and picturesque Bateshwar Valley, which attracts a large number of tourists every year. Night stay will be at the hotel back in Gwalior.
Day 14: Gwalior Departure
You'll be transferred to Gwalior Airport, in time to board a flight to Delhi. From here, take a connecting flight for onward journey, thereby calling the tour a delightful and wonderful end.